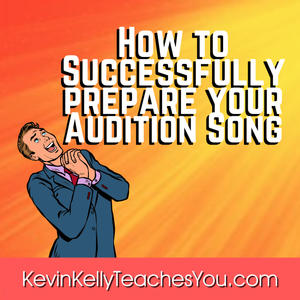 So you're getting ready for an audition...you've chosen your song, made the perfect 16 bar cut, and you're ready to put it in your book and hit the boards.  DON'T DO IT...yet.  There are still a few things you need to do to assure a seamless audition.
Forewarned is forearmed! This is your chance to help them understand what you want in your performance.  When you set your music in front of the pianist or Music Director, make sure that everything on the page is clearly marked and easy to read.  Here are is a quick checklist:
Make sure it's a PIANO & VOCAL arrangement and not just a lead sheet or piano solo.
Make sure it's a clean copy - A copy of a copy of a copy WILL NOT WORK.  Purchase your music online at Musicnotes.com* or SheetMusicDirect.com* to make sure the music is in your key, easy to read and nothing is cut off...you'd be AMAZED what comes across my piano in an audition.
Highlight your Key Signature & Time Signature - if the neither one are on the cut, make sure to write them in. It's also a good idea to highlight any internal meter or key changes.
Mark the START & END of your cut.  
Decide if you want an INTRO or a BELL TONE to begin. Practice whichever option you choose.
Spend the money to have it recorded as it appears on the page to make sure it's what you want.  It's also a good idea to keep that recording on your phone so you can listen to it while you're waiting to go into the audition room.
The 2 minute relationship that you build with the pianist starts with your music.  Having your music immaculately prepared will insure that you will make beautiful music together!
Kevin Kelly 
https://linktr.ee/kevinkellysings
*these websites offer pre-fab audition cuts of thousands of musical theatre songs.