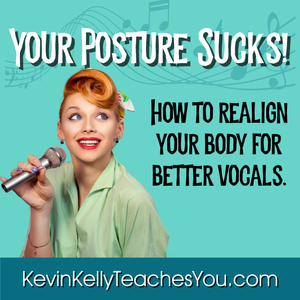 Hey you! Your posture SUCKS! Someone had to say it.  
I don't know about you, but I spent my formative years with my mother constantly encouraging me to "sit up straight", or "stop slouching".  As I sat at the piano she threatened to tie a board to my back if I continued to slouch.  Seems harsh, right? Not really.  My mother only had my best interests at heart, and she set me up for a lifetime of good posture, and for that, I thank her!
So why so much focus on alignment and posture? As a singer, this could not be a more important topic.  Notice how you are sitting or standing as you read this?  Do you feel your head hyper-extended in FRONT of your body? Do you feel a pull or strain across your shoulders? We are all guilty of it. We sit slouched over our computer or phone for 90% of our day, so it's no wonder we find it harder and harder to produce a clear and easy sound when we sing, Not to mention that we are plagued with back and neck issues!
So let's fix that!
1. Find a large mirror and stand in front of it.  Now look at yourself. I mean REALLY look at yourself and how you are standing. Stand with your feet shoulder width apart and take a couple deep and organic breaths. As we focus on our breath, we can feel the tension in our body start to melt away.
2. Without forcing them and causing more tension, gently roll your shoulders down and back.  When done correctly, you should feel a slight expansion in your upper chest, right below your collar bone. Take a few seconds to notice how this feels.
3. If you were slouching before, you would feel a compaction of the rib cage into the hips...you may not be squished into an accordion like a cartoon character with an anvil on his head, but you will notice that it feels like you are sitting into your hips.  Take another breath, and as you exhale, feel the rib cage "lifting" up and away from the hips, like you are creating more space.
4. Lastly, find the inion on the back of your head...it's that little bump at the base of your skull.  Now imagine a wire attached to the inion, lifting your head and straightening the spine.
Now this won't fix ALL of your singing ailments, but it sure is a great place to start! The goal is to realign your body, which releases tension, which helps you breath, which helps you connect the breath to the sound, which ultimately helps with vocal production.
As you go through your day, pay attention to how you sit in the coffee shop, stand on line in the grocery store or walk down the street.  The more aware we become of our alignment on a day-to-day basis, the easier it is to correct it and allow that positive muscle memory kick in.
Hope that helps!  Find out how I can help your vocals and sign up for a FREE CONSULTATION!
😎 Kevin Kelly